The first lockdown imposed on the French during the month of March has led to the democratization of the practice of teleworking for a large number of French companies. Therefore, a majority of employees whose jobs were compatible saw themselves working from home, forcing companies to rethink the way they work.
A rapidly emerging practice or a phenomenon linked to the health crisis, management companies Atland Voisin (in partnership with OpinionWay ) and PERIAL AM (in partnership with the institute Ipsos) wanted to ask the French, whose job allows them to telework.
How did telework develop following the lockdown? What opinion do office workers have about teleworking? Will telework become widespread after the health crisis? Some answers.
Teleworking was essential in almost half of the companies allowing it during the first confinement
Before the confinement put in place in March 2020, 82% of French people working in an office remained exclusively on this site. As a result of the measures taken by the government, 47% of working people (aged over 18) used telework for the full week and around two thirds for three days per week.
Across France, 70% of workers are not affected by teleworking measures because of the activity they practice. Logically, the Ile-de-France residents whose profession is compatible with teleworking practice it in the majority (69%) against one in two employees in rural municipalities.
Telework should develop in the long term but will not replace office work
The vast majority of French workers working in offices believe that teleworking should develop in the coming years. Indeed, 85% of them believe that the use of teleworking will become widespread following the Covid-19 pandemic. Also, 63% agree that it will be in place for a period of 1 to 2 days per week . If given a choice, 45% of working people would like to work half the time at the office, the other half at home.
A practice of "all teleworking" therefore remains unlikely, neither for employees nor for companies. According to surveys, only 1 in 10 employees believe their company will impose telework in a sustainable way. As for employees, only 17% want to use "all telework" in a sustainable way.
Is your company planning to implement teleworking?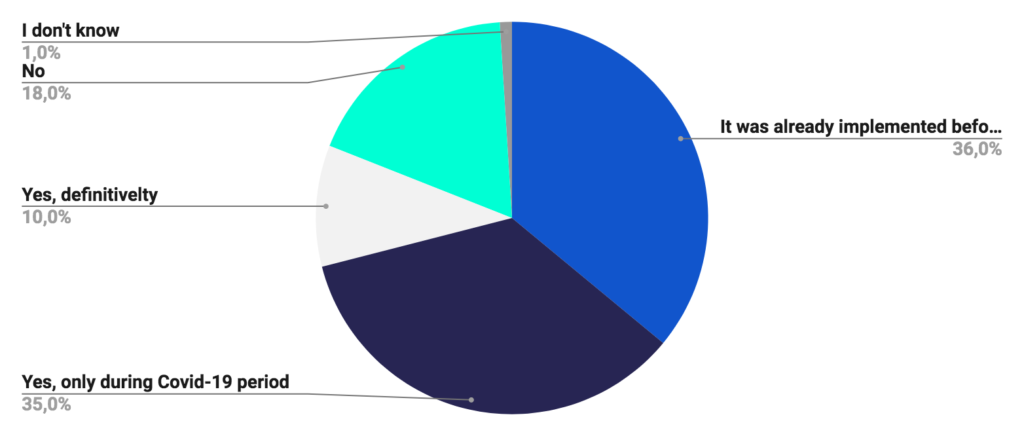 "This study conducted by Ipsos at the request of Perial AM supports our belief in shared work time between office, teleworking and nomadism. Far from replacing the office, teleworking on the contrary reinforces the need for the office to form a company and embody the strategy of companies."
Loïc Hervé , Deputy Managing Director of Perial AM